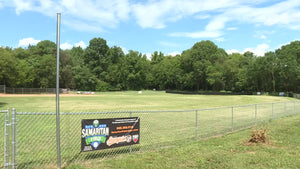 Soft Touch Bases Lends a Hand in Samaritan Field Fire Rebuild
Samaritan Field in Knoxville, Tennessee, is a community baseball field that has been brought back to life and subsequently maintained by passionate, baseball-loving volunteers. In August, field director Matthew Peters arrived at the field to see that the shed which housed all of their equipment had been burned down, and their lawn mower was stolen.

According to a report by WVLT Local 8, when the group of volunteers first found Samaritan field, it was overgrown with weeds and grass and lacked a fence. The volunteers mowed a path, hauled 13 loads of brush, installed a fence, and filled a sinkhole to make their dream of a community gathering spot come true.

 

 

Soft Touch Bases has a variety of bases to outfit any field. When purchasing directly from the manufacturer, you'll be receiving the product at the lowest price possible. Buy direct and SAVE!
 
Soft Touch Bases saw this news and could only imagine the heartache the children and families felt who regularly used and cared for the field. We reached out to Matt to donate a set of bases. When Samaritan is back up and running, players can play harder and safer knowing that Soft Touch Bases are designed to flex and absorb energy as each player slides into the base. Soft Touch progressive release bases meet the Little League "disengage-able" base rule implemented in 2008.
If you'd like to help get children and youth back on the diamond at Samaritan Field, please make a donation on their 
Go Fund Me
 page, or contact them on 
Facebook
.
---